Shopping Cart
Your Cart is Empty
There was an error with PayPal
Click here to try again
Thank you for your business!
You should be receiving an order confirmation from Paypal shortly.
Exit Shopping Cart
Schedule Your Free Estimate Today:
| | |
| --- | --- |
| Posted on May 5, 2015 at 8:40 AM | |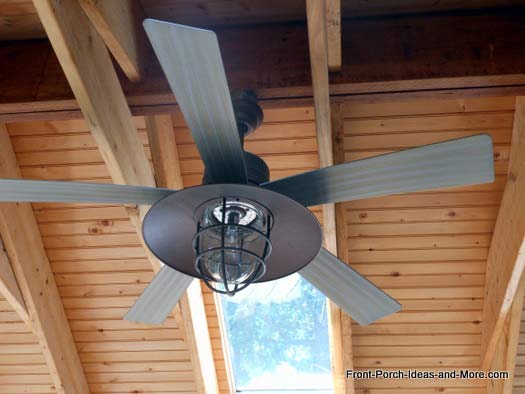 If you want to maintain a comfortable temperature throughout summer at your house, do you use an air conditioner or a ceiling fan?
Due to increasing electricity costs and the that fact that your air conditioner may be the largest contributor to your energy use at home, very few people can happily leave their air conditioner running 24hours a day.
Did you know that a ceiling fan is a very economical way to help cool a home? A ceiling fan works the same way as a breeze does; by cooling you through the movement of air over your skin, this allows your skin to breathe and cool you down.
The benefits of ceiling fans
 Ceiling fans are environmentally friendly, with most ceiling fans using only about as much power as a 60 watt light bulb which equates to less than 1 cent per hour to run. Although note that when buying fans, check how much power the motor uses as an inefficient fan motor can undo much of the greenhouse gas savings.
They are inexpensive to purchase and run in comparison to air conditioners. To purchase a ceiling fan will cost you $70-$200 to purchase and 1c/hour to run.
Ceiling fans can move air much more quietly and are more efficient air movers. In most situations ceiling fans are quieter than air conditioners which rely on small fast moving internal fans to distribute the air which create more air turbulence which is a major source of noise.
Ceiling fans don't dry out the air. By using an air conditioner to cool the air you also reduce the amount of moisture it can carry and as such you lower the humidity in a room. Whilst this can be an acceptable side effect in a humid environment, it also causes the drying out feeling that leaves your eyes, throat and skin dry and sore which is why many of us prefer to sleep under a ceiling fan.
Ceiling fans can be reversed for winter. Most people don't think to turn on a ceiling fan during winter, but you can use a ceiling fan with a reversible switch, which pushes the warm air down from the ceiling, warming up your room and reducing your heating costs. This warm circulating air also reduces condensation on your windows.
Ceiling fans are fantastic in open spaces or spaces where there is a lot of mixing of air between the inside and outside, for example outdoor entertaining areas. Air conditioning is in-effective in comparison unless it is running on the higher settings which in turn would consume a large amount of electricity and become costly.
Ceiling fans and air conditioning are natural partners providing different but complimentary roles. When using an air conditioner to reduce the temperature and humidity in conjunction with a ceiling fan to move the chilled air, providing a natural breeze your cooling effectiveness is greatly improved. When using you ceiling fan and air conditioner together you are also able to set the thermostat on the air conditioner at a slightly higher temperature, whilst still maintaining your same level of comfort but reducing your energy consumption.
Effective cirucation can make you feel up to 8 degrees cooler, and reduce air conditioning bills by up to 40%.  Contact Eric today at Northern Automation and Electric.
| | |
| --- | --- |
| Posted on May 5, 2015 at 8:05 AM | |
Vacation season in the United States is also break-in season. The highest percentage of home burglaries occur during the summer months resulting in an average loss of $1,675 per break in.
Many people tend to overlook burglary statistics because they consider break-ins to be a lesser crime than murders, rapes and other offenses. While burglaries do not always result in physical harm to the victim(s), it leaves a significant impact. Not only are there monetary damages, as mentioned above, but there are psychological costs to the homeowners or renters such as living in fear.
Break-ins should not be taken lightly. According to recent FBI crime reports, home break-ins are the most common threat to our homes and we can expect 1 in every 36 homes in the United States to be burglarized just this year.
So how can you keep your home safe from break-ins and other security issues?
Between standard practices and home security systems, there are four key things that can be done to help prevent someone from breaking into your home while you are on vacation this summer.
1. Make your home look occupied.
When you are away, leave some lights on. If you will be away for an extended period of time, you can connect some lamps to automatic timers to turn them on during the evening and off during the day. Also, arrange with a trusted friend or family member to keep your yard trimmed and mail and newspapers from piling up while you are away. These are clear signs that someone has not been home.
2. Lock all doors and windows before you leave.
This includes your garage door and garden sheds. Sliding glass doors and certain windows may be more vulnerable to break-ins. Check with a locksmith or hardware store for special locks to keep these areas of your home safe.
3. Install a home security system.
There are several things to consider when deciding on a home security system and Northern Automation and Electric can help you choose the best Security system for your needs and  pease of mind while you are away..
4. Be a good neighbor.
If you notice anything suspicious in your neighborhood, call the police. People are less likely to break into your house if they know the community has a reliable neighborhood watch program in place.
Finally, if your home is broken into this summer, make sure to call the 9-1-1 immediately. Because police are only able to clear about 13% of all reported burglaries due to lack of witnesses or physical evidence, it is important to be taking active steps to protect your home while you are away this vacation season
| | |
| --- | --- |
| Posted on May 5, 2015 at 7:50 AM | |
The weather is heating up, and with it the load on your electrical system. Don't let the stress pile up. Protect your electrical system – and your wallet – from the stresses of summer with the help of these simple tips.
Take a load off.
Is your electrical system bearing the burden of your poor appliances choices? Don't become a victim of "operator error" by overlooking these seasonal adjustments to appliance use:
Don't blow it.
Heating and cooling comprises from 30-50 percent of your electric bill, making it one of the biggest stressors on your electrical system. However there are many ways to reduce that stress, including…
• Keeping your air filter clean.

• Scheduling a professional cleaning and tune-up once a year.

• Clearing your outdoor system and indoor vents of debris and blockages.

• Addressing ductwork leaks.

• Setting your system on 85 degrees when you're not home, or…

• Installing a programmable thermostat.
Keep your cool.
Your refrigerator is among the largest consumers of energy in your home. Keep a lid on energy consumption by…
• Ensuring seals are clean and tight.

• Verifying proper operating temperate: 37°-40°F in the refrigerator and 0°-5°F in the freezer.
Keep things from boiling over.
Water heating is typically the third largest energy expense in your home. The hotter the temperature of the water, and the more used, the harder your electrical system is forced to keep up with the heating demands. Summer is hot enough! Cool your use by…
• Setting water heater temperature to 120 degrees.

• Properly insulating your tank.

• Taking a shower instead of a bath.

• Turning hot water – and your heater – off when you don't need it.
Go au-natural.
Hanging clothes on the line rather than running the dryer, the second largest energy-consuming appliance in your home, can keep your home and energy bills from becoming too hot to handle.
Fire up the grill.
Using your stovetop or oven in summer's heat can really put a strain on your air conditioner and electrical system. Save some dough and maintain comfort by firing up your grill instead.
Reduce appliance stress.
Today's homes use a multitude of gadgets and appliances that can cause a considerable amount of stress to your electrical system. Give your system the TLC it deserves:
Flip the switch.
Turning off items that are not in use rather than letting them run –lights, laptop and mobile devices, TVs, radios, and more – can take a lot of pressure off your electrical system. How much? Lighting in the average home accounts for 12 percent, and electronic devices another 10-15. Whew!
Go unplugged.
Vampire power can really drain you, sucking up 5 percent of your power bill or more – all for nothing. Among the biggest offenders putting a strain on your electrical system (even when they're turned off): TVs, computers, microwaves, cell phone chargers… anything with a power adaptor, indicator light, standby function, or clock. Unplug these items or plug them into a power strip, flipping them off when they're not in use.
Contain yourself.
Your electrical system can suffer stress from issues outside of your home as well. Are you closing your eyes to these electrical stressors from your home's great outdoors?
Stay out of the spotlight.
Outdoor lighting fixtures are heavily used and a great place to take a load off. Updating to more modern technology for outdoor lighting such as motion sensors, timers, and photocells for sensing daylight, in addition to CFL and LED bulb technology, can not only save a pretty penny in energy wasted on unnecessary illumination, but boost security as well.
Reinforce your protective shell.
Is the outdoors infringing on your indoors? Your home's thermal envelope – the outer walls, windows, doors, floors, ceiling – may need support in the form of adequate insulation and air sealing to keep your home comfortable and help you avoid the stress of unnecessarily high energy bills. Ease the hardship on your wires and your wallet by putting this on the top of your priority list.
| | |
| --- | --- |
| Posted on March 27, 2015 at 12:30 AM | |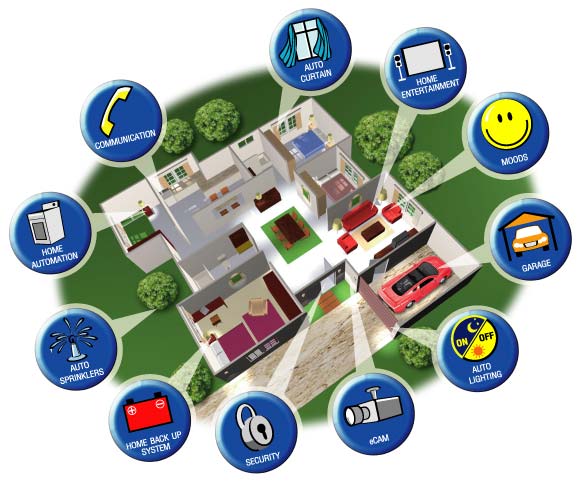 In today's costly world, homeowners are fully aware of the expenses related to inflated energy costs and inefficient home security systems.
There is nothing worse than receiving an electricity bill and being shocked by the amount owed at the end of a month or stolen possessions that could have been more strategically secured. Such realities have led homeowners to seek technologies that can help them beat the current system.
A growing number of homeowners are educating themselves on basic energy management and security devices, which often combine the use of innovate shade and control systems. A wide variety of automation solutions help homeowners monitor and control their home lighting from an iPad, iPhone, or wireless, you can pre-program lighting levels and reduce energy output.
It is also amazingly easy to set lighting to turn on and off at specific times. This significantly reduces the possibility of a light being left on throughout the night, or for several days while a homeowner is on vacation. Additionally, with remote access service, no matter where in the world a homeowner travels he or she can turn lights on or off with a simple touchscreen command.
To make the management of lighting much easier to maintain, Control4 offers keypads with captions that can read "kitchen," "hallway," "master bedroom," "patio," and more. With a push of a single button, lighting is ignited in a desired location. The Control4 suite of products also offers dimmers that allow for lights to be set to a particular level.
In addition there are ground breaking products for ultimate lighting, shading, security, and energy control. These systems provide a holistic approach that combines total light and shade functionality. Control the power to adjust the amount of daylight and electric light in a room throughout an entire home. Shades can also be lowered, electric powered curtains closed, and lighting ignited at pre-programmed times.
For instance, if particular rooms within a home are in direct sunlight in the afternoon, the lowering of window shades and closing of curtains can significantly reduce room temperatures. Or when the family is on vacation and dusk approaches, lowered shades, closed curtains, and automated lighting can offer higher levels of security. And for the family that has developed a high-tech home theatre, with the single push of a button window shades can be lowered and lights set to a particular level to create the perfect ambiance.
Many homeowners love the fact that automation systems are fully scalable. This provides homeowners the power to start with a single room and expand when time and budget permits.
Seeking to automate your home for added simplicity, comfort, energy efficiency, and security? The beauty of 2015 is that homeowners have more control than ever before.
The secret to discovering and installing a solution that best fits your needs is to consult with a personalized home automation expert. Contact Eric at Northern Automation and Electric Today!

| | |
| --- | --- |
| Posted on March 14, 2015 at 8:00 AM | |
You may be surprised by how many electrical elements there are to consider:
Electrical Wiring
Most older homes will need upgrades to the electrical system at some point. The appliances and technology we have now demand a certain level of reliable power.
If not already the case, you will want to upgrade your service to 100 amps or more to support modern power usage.
Most homes have 120V electrical circuits. Some major appliances might require a 220V current.
You may want to add, or you may be required to add additional outlets if the existing number is below code.
Electrical – Safety
Older homes may not have proper grounding on the electrical outlets. Grounding provides protection from electrocution by channeling current into the ground instead of into the body. Electricians can install grounding on all outlets.
Power outlets located in bathrooms, kitchens, home offices or outdoors should be protected with a GFCI circuit breaker. This kind of grounding shuts off power to the outlet if it detects irregular current in the power flow.
State and city codes often impose guidelines in this area. Improper electrical wiring can result in electrical shock, circuit shorts, appliance failures or electrical fires.
Lighting
As part of your electrical wiring home review, inspect all light switches and make sure they work properly.
You may find that some older homes are not wired for ceiling lights in every room. You may choose to use floor lamps plugged into an outlet that is controlled by a light switch. Or if you are already opening a ceiling in such a room, you might take advantage of it to wire for ceiling lights instead. Think carefully about where new light switches should be placed.
Room additions will obviously require ceiling wiring as well.
Consider if you want to install additional outdoor lighting for safety or visibility.
Keep in mind that lighting plans must be reviewed as part of the city design review and permitting process.
There are many light mounting options, including recessed lighting, flush and semi-flush mounts, track lighting, pendant lighting, chandeliers and wall mounted lights. Each option offers its own aesthetic. You will want to select the type of lighting mount for each location when deciding on the wiring plan.
Finally, if you are interested in automation you can explore the possibilities of lighting automation with programmable light settings.
TV and Data (Internet)
Data and TV connections come in many forms. The most common are: coaxial cable, telephone wire and ethernet cable (CAT-5 / CAT-6). Many Internet and TV service providers are delivering multiple services to your home, including TV, telephone and Internet on the same line. Planning your data in advance is good to consider for several reasons:
Different services require different types of wiring (e.g. cable service providers like Comcast use coaxial cable, while DSL providers tend to use telephone or ethernet cable).
 Where the service reaches your house can differ depending on the type of service (e.g. Satellite TV providers are often mounted to your roof).
TV and data can reach into many rooms in your home.
It's a good idea to plan out in advance how you want to be accessing your TV and Internet.
Data/Internet
Data refers to the wired or wireless transmission of IP (internet protocol) information. No house today is complete without high-speed internet service. You will likely get your connection through one of several options:
DSL through your data ready phone wiring – call your cable company.
A cable modem through a coaxial cable connection.
Once inside the home you will have LAN cabling or wireless LAN to connect your networked devices.
You should test the wireless signal strength in your home to find the optimum location for your wireless hub.
What about wireless internet?
Wireless internet is a great way to avoid having to update your wiring. Unfortunately, wireless internet is generally not as effective as wired, and is less reliable for data intensive needs like distributing HD TV signals.
TV
TV used to be simple – plug it in and adjust the antennas. Then it became – plug it in and plug in your cable or cable box. Now your TV is likely to be mounted on the wall with hidden wires and the cable or satellite box in a different location. There are many choices for how to get the signal to your TV with devices like DVD players, Apple TV and gaming systems, all with different wiring needs to consider.
Planning is key – here are some things to consider:
What kind of service provider, if any, will you be using to get live TV programming? There are three common options depending on where you live, and they may require different connection types:
Cable
Telephone / DSL provider (e.g. AT&T Uverse)
Satellite
Which rooms will you place your TV's in?
Will the TV's be on a TV stand or wall mounted? (Make sure to note which wall the TV will be on.) Wall mounted TV's can look great, but have special requirements for getting the electrical wiring into the wall.
What devices will connect to each TV? What type of connection will they use and where will they be located relative to the TV?
Plan ahead and plan flexibly to give yourself the most options. We recommend at least 2 Ethernet (CAT-6 or better) and 1 Coax connection to each place where you plan on having a high definition television. This wiring should terminate in an electrical wiring closet or central location where your services can easily enter the house.
Why 2 ethernet connections for each TV? Three reasons:
It's cheap – if you're already bringing one line in, why not 2?
Flexibility – many devices, from DVD players to TV's, now have Ethernet ports
If you choose to keep your TV receivers in a hidden place and want to send the signal to your TV over some distance, your best bet is to convert the signal from HDMI to Ethernet. These devices are HDMI Extenders.
Home Theater
Wiring a home theater brings an additional set of considerations. Most home theater systems have several common components:
Receiver – generally connected to your TV and its components
Speakers – typically 5 speakers with front (front left, front right), center and rear (rear left and rear right) locations
Sub woofer – typically one large box-like speaker that is located away from the TV and components
The basic electrical wiring requirements above will accommodate connecting the receiver to your TV and other components, but the speakers have an additional set of considerations. Most notably:
Rear surround speaker locations and wiring – A smart home theater configuration will have the rear surround speakers wired into the wall where the speakers will be positioned. Rear surround speakers can be one of several types: self-standing, in wall or in ceiling. The wiring is typically traditional speaker wire.
Sub woofer wiring – sub woofer wiring varies but is typically coaxial, speaker wire or RCA cabling. In any case you'll need to consider how to get the wiring from the receiver to the sub woofer location.
What about wireless home theater speakers?
These have become more common in recent years and can have excellent sound quality, in some cases close to that of directly wired speakers. We recommend going to your preferred home audio electronics store and demoing the equipment. From there you can identify the proper wiring required.
Complete Home Distributed Audio Systems
If you want to able to hear music throughout your house and control what you hear in each room, take the opportunity during your remodel to wire appropriately. Unless you choose a wireless solution like Sonos, you will need to choose your equipment and speaker configuration ahead of time. In-ceiling or in-wall speakers are an excellent option but require you to plan ahead where your speaker wire will terminate and how you will control the distribution of your sound. An interesting and lower cost option to Sonos in this area is to look at Apple's AirPlay compatible devices.
In-wall or in-ceiling speakers
For home theater or distributed audio or both, you can reduce the clutter by getting the speakers off the floor and into your walls or ceilings. Your electrician will need to know about this during the rough electrical phase.
Phone Wiring
Your house will already have phone wiring in place, but it may be an analog system that you are not able to integrate with your other technologies. Digital phone systems are now the norm. Phone service can also be bundled with cable and high-speed Internet by many different providers.
IP telephony is an emerging trend in home telephony. This is where you connect a device to your internet router that you also plug a telephone into. You can then receive phone calls through your internet connection at very low cost. One of the leading companies here is Ooma.
NAE Recommendation: If you're considering rewiring or adding phone wiring for the first time, consider running Ethernet wiring instead. This wiring can support phone and future data needs.
Thermostat Wiring
If you are interested in installing a digital, programmable thermostat that connects to your wireless network and is controllable from your smartphone like the NEST, you may want to double check that your current wiring is compatible.
Ceiling Fan Wiring
If you are planning to install a ceiling fan where there isn't one currently, be aware that a specific type of electrical wiring and switch might be necessary, as well as a mount in the ceiling to give the fan extra stability. Also check that you have adequate ventilation in your bathrooms and
Home Automation
Home automation is where the various electronic systems in your home can be centrally or remotely controlled from a single device or system. Systems that can be controlled by home automation include virtually every system noted in this article. Control4 and Crestron make two popular systems.
NAE Recommendation: These systems tend to be very expensive and less expensive alternatives are emerging. This article notes the Nest, for instance, which provides a way to remotely control your home heating and cooling. In addition, technologies like Belkin's Wemo allows you to remotely control selected power outlets from your smartphone or based on predetermined conditions.
Security Monitoring
For those interested in installing security systems and cameras, numerous wireless options exist. There are trade offs and you should plan ahead to have this wiring integrated in your home as well.
Electrical Wiring Access Tip
Leveraging outside walls, attics and crawl spaces can minimize the number of openings you need to make and repair in your walls.
| | |
| --- | --- |
| Posted on March 10, 2015 at 5:50 PM | |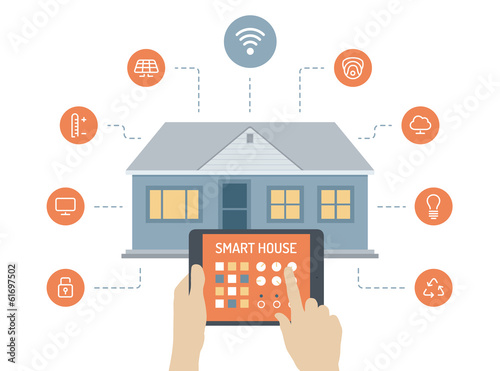 When you're not home, nagging little doubts can start to crowd your mind. Did I turn the coffee maker off? Did I set the security alarm? Are the kids doing their homework or watching television?
With a smart home, you could quiet all of these worries with a quick glance at your smartphone or tablet. You could connect the devices and appliances in your home so they can communicate with each other and with you.
Any device in your home that uses electricity can be put on your home network and at your command. Whether you give that command by voice, remote control, tablet or smartphone, the home reacts. Most applications relate to lighting, home security, home theater and entertainment, and thermostat regulation.
The idea of a smart home might make you think of George Jetson and his futuristic abode or maybe Bill Gates, who spent more than $100 million building his smart home [source: Lev-Ram]. Once a draw for the tech-savvy or the wealthy, smart homes and home automation are becoming more common.
What used to be a quirky industry that churned out hard-to-use and frilly products is finally maturing into a full-blown consumer trend. Instead of start-up companies, more established tech organizations are launching new smart home products. Sales of automation systems could grow to around $9.5 billion by 2015 [source: Berg Insight]. By 2017, that number could balloon to $44 billion [source: CNN].
Much of this is due to the jaw-dropping success of smartphones and tablet computers. These ultra-portable computers are everywhere, and their constant Internet connections means they can be configured to control myriad other online devices. It's all about the Internet of Things.
The Internet of Things is a phrase that refers to the objects and products that are interconnected and identifiable through digital networks. This web-like sprawl of products is getting bigger and better every day. All of the electronics in your home are fair game for this tech revolution, from your fridge to your furnace.
| | |
| --- | --- |
| Posted on March 10, 2015 at 8:45 AM | |
We a NAE believe your home is your castle - enjoy it, customize it, make it reflect your taste and values.
Outdoor lighting can enhance the beauty of your landscaping and the usefulness of outdoor living spaces. A variety of lighting options enables you to highlight landscape features, improve safety on walkways and stairs, and showcase the design of your home. NAE will work with you and/or your landscaper to design an outdoor lighting plan that meets your practical needs as well as your personality tastes and desires. Regardless of if it's creating a soft moonlit glow around your pool, spotlighting architecture or lighting a pathway for safety, we can design a plan to achieve the effect you have in mind.
Safety Lighting/House Lighting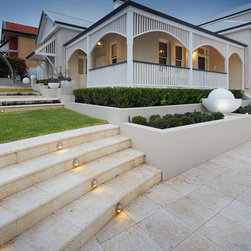 An economical and smart solution to increase the safety of your home is security lighting. If securing the safety of your home and loved ones is a priority, NAE will design a plan that strategically places light in areas that will help increase the level of safety around your home. Wall lights added to your outdoor lighting system can not only enhance safety, and define edges, it can also greatly enhance setting ambiance. House lights installed around windows, entry ways, doors, etc. are wonderful deterrents for thieves. Flood lights and motion lights have always been popular options for homeowners looking to amp up safety. However, house (or structure) lighting, pathway lighting, wall lighting, step lighting, etc can be added to the system in order to FULLY secure your property.
Pathway Lights
Walkways, driveways, pathways, walking trails or sidewalks are hard to see when it gets dark out. Light them up with subtle incandescent lights and enjoy taking walks at night safely. Illuminating the path and the landscape edges enhances landscape ambiance and ensures safety. Not only does the property truly come alive when subtle lighting is installed in strategic places, it also enhances the safety of the property (see above). Walking without tripping is reason enough to light your path, but the added benefit of the safety and beauty they bring your property are enough to convince most homeowners to install them.
Tree Lighting
Spotlight trees around your property from the ground and you will see the tree take on a subtle glow when night falls. 'Up lights' are installed at the base of a tree and adjusted to shine up on to the canopy of branches and leaves above. The effect is simply beautiful. Another tree lighting option is to install 'down lights' high up in the branches of the tree. Down lights are pointed down, but rather than spotlighting the tree itself, these lights are intended to shine down on your yard. The effect of the light high above shining through the lower hanging branches of the tree on to the yard is ethereal. It creates a moonlit glow year round!
Outdoor Living Area Lighting
Entertaining outside is a blast when you have a well lit yard. Utilizing up lights can add a tremendous amount of texture, contrast and interest, while down lights efficiently mimic natural moonlight and enhance the effects of other lights. Let us advise you on what types of lighting will help you extend your enjoyment of the outdoors well into the night! NAE can install lighting as well as run new electrical hook ups for outdoor kitchens and ceiling fans, as well as install new switches and outlets.
Outdoor Lighting Customized To Meet Your Needs
If you desire lighting that turns on automatically at a set time, we can add a timer to your system. If you want security lighting, up-lights, down-lights, or spotlights in every shape and style, we can do it. If you desire dimmers and other specialty lighting fixtures or controls to create just the right mood, we can do it. For dramatic outdoor lighting of unsurpassed quality and durability at an affordable price — NAE can do it. We encourage you to view our lighting designs and installations in our photo gallery. Call us for a free consultation and outdoor lighting design plan today.  
| | |
| --- | --- |
| Posted on March 6, 2015 at 1:05 PM | |
A futuristic kitchen designed by Virginia Tech University researchers includes a dishwasher that sends a text or email when it is out of soap, a microwave that listens for the moment when popcorn stops popping and a pantry that can report low supplies.
But it will be a while before most big U.S. home builders offer such automation on a mass scale.
Home automation has made great strides in recent years, with wireless technologies enabling users to monitor and control more functions remotely. Yet many builders are including only the most basic elements of automation as standard features in the houses they build, leery that fast-changing technologies can't yet seamlessly automate all of a given home's devices and systems at a mass-market price.
"Offering 10 different solutions in one house would be costly," said Dan Bridleman, a senior vice president at builder KB Home, which started offering limited automation in its homes in 2013. "Ultimately, you need one low-cost solution that integrates all of it."
Many builders acknowledge that buyers expect new homes to include modern features, and that full-home automation eventually will be included in that expectation. A survey last year of 4,556 U.S. Internet users by technology research firm Forrester Research Inc. found that 18% were using at least one automation feature in their homes.
"By 2020, half of households, particularly affluent ones, will be engaged in some kind of substantial aspect of home automation," said Frank Gillett, a vice president and principal analyst studying home automation for Forrester.
Some homeowners, like Raffi Kajberouni in Santa Clarita, Calif., already are there. Mr. Kajberouni bought a new three-bedroom home from KB Home in 2012, ordering all automation options available at an extra cost of $18,206. The system automated his home's security, thermostat and solar power system, allowing him to control each with his mobile phone. Last summer, when at the airport to depart for a two-week trip abroad, Mr. Kajberouni used his mobile phone to shut off his home's air conditioning.
Since buying his home, Mr. Kajberouni has spent $4,000 on still more technology, including a Samsung Electronics Co. automation-enabled refrigerator and a connected digital video recorder.
"If you have someone who knows technology, like me, they're going to embrace this," said Mr. Kajberouni, a 33-year-old chief financial officer for an aviation-repair company.
For now, though, the interim route for many builders is to offer partial automation. The upfront cost for the systems' hardware typically ranges from the hundreds of dollars into the thousands, which builders include in the price of the home. Thereafter, homeowners using security or energy-monitoring services tied to their automation systems often pay a small monthly fee.
Beyond that, it is up to the home buyer to add any bells and whistles and to ensure they are compatible with the system already in place.
A touch screen is used to control the oven at the future kitchen designed by Virginia Tech students. Photo: Jacob Kepler for The Wall Street Journal
Builders Lennar Corp. and Meritage Homes Corp. have taken a partial approach by installing in their homes Ingersoll-Rand Co.'s Nexia Home Intelligence System, which allows users to connect and control their security systems, heating and air conditioning systems and garage door, among other things. But Nexia doesn't yet interact with kitchen appliances or most entertainment equipment.
KB Home in 2013 chose Schneider Electric SA's Wiser Home Management System for all of its homes. The system can monitor and control a home's energy use and connect to the home's security, heating and air conditioning and lights, as well as smart appliances from Whirlpool Corp.
Some builders are hesitant due to past experiences. A decade ago, David Weekley Homes experimented by outfitting some of its homes with entertainment-automation systems offered by small, third-party providers. But the resulting glitches, customer-service fallout and reputation damage left Weekley reluctant to dive back in. Weekley now offers, but doesn't promote, automation features as options in its higher-end homes.
The race to automate part, or all, of the American home was on display last month at the combined International Builders Show and Kitchen & Bath Industry Show in Las Vegas. Among the highlighted home features controlled by mobile devices were luxury coffee makers, garage doors and digital door locks.
AT&T Inc. showcased its Digital Life automation system, introduced in 2013, for connecting and operating a home's thermostat, lighting control and security system, with video cameras, automated door locks and other features.
The prototype kitchen by the Virginia Polytechnic Institute and State University, commonly known as Virginia Tech, includes numerous networked appliances and fixtures. Each can be controlled by voice commands or gestures, the homeowner's smartphone or through touch screens such as the 55-inch screen embedded in the kitchen's island countertop.
Whether consumers will use such applications, and whether builders will need to incorporate them in the future, remains a focus of experimentation and research. "It's more or less filtering of what is useful and what isn't," said Joseph Wheeler, coordinator of Virginia Tech's Center for Design Research.
/