Shopping Cart
Your Cart is Empty
There was an error with PayPal
Click here to try again
Thank you for your business!
You should be receiving an order confirmation from Paypal shortly.
Exit Shopping Cart
Schedule Your Free Estimate Today:
| | |
| --- | --- |
| Posted on December 31, 2018 at 10:30 PM | |
Champion offers serveral sizes to choose from.
8.5 KW
12.5 KW
14 KW
10 year warranty (Best in its class)
24 Volt DC starting system (No cold weather kit needed)
Best Buy in Consumer Report of 2018
| | |
| --- | --- |
| Posted on March 25, 2015 at 4:00 PM | |
Another record breaking New England winter is behind us, but thunderstorms and hurricans are on the horizon. When you consider that it took until the end of 2012 to restore about three quarters of the electricity in the aftermath of Hurricane Sandy, looking into the purchase of a back-up generator makes sense for residents and business owners.  Northern Automation and Electric is a authorized dealer for GE and Briggs and Stratton.  We usually get calls from area residents who are wondering if this is the right investment for them. Here are some common questions and their answers.
Q: Why should I invest in a backup generator?
A: Do you usually have a freezer full of food? Do you have a medical condition that requires you to use durable medical equipment, which relies on electricity? How about comfort; do you like to be warm or cool – depending on the season – even if there is foul weather? If you answered yes to any of these questions, a backup generator makes sense.
Q: Can it power all of my circuits?
A: Depending on the size of the backup generator you choose, you can power your whole house or just a few circuits. For example, if you do not worry about your hobby room and the garage, you can omit these circuits and purchase a smaller model. If you like the option of accessing and using each room to its fullest potential even when the grid is down, a whole-house 17KW model gets the job done.
Q: I travel a lot. How does a back up generator benefit me?
A: If you are away from home frequently, or if you maintain a summer residence,  a generator is actually the type of appliance that you should look into. Its mobile link feature allows you to remain in contact with the machine via a smartphone or computer. Wherever you have cellular service availability, you can check in on your generator to see if it is running, when it last ran and what the overall power situation looks like at your home.
There is a lot more to these backup generators than meets the eye. Technology has moved on significantly from the last time you probably looked into the purchase of one of these appliances. When you call Eric at Northern Automation and Electric, he will gladly discuss the latest in the lineup of generators, how one of these appliances may benefit you, and what model will most likely meet all of your needs.
| | |
| --- | --- |
| Posted on March 14, 2015 at 7:50 AM | |
Building a new house can be an exciting time, but it can also be stressful. There are many things to think about during home construction from design and layout to cabinets to where you want the laundry room located. You never want to regret a decision down the road, especially when you start with a clean slate.
When building a home, one thing you might not think about is back-up power. Why? Simply because you haven't even lived in the home yet, so losing power doesn't cross your mind. Instead, you may be dreaming about hosting the first Thanksgiving. No one knows when a storm might hit and leave them without electricity. It could be day one, week one, year one or worse- during the Thanksgiving gathering- where you're left scrambling to get through a power outage.
Why Consider a Standby Generator during New Home Construction.
 Including a home standby generator when building a new home is a smart decision because:
It's simpler to add it into a new home project than retrofitting a pre-existing home
Installation costs are lower as the builder and electricians can plan for it
The cost of the generator could be rolled into the new mortgage
Costs of a power outage could get expensive
You can take advantage of any incentives or discounts offered by the builder, standby generator manufacturer or even your insurance provider
NAE offers a range of standby generator models to fix any home.  Contact us to get more information and scheduled a free consultation.
| | |
| --- | --- |
| Posted on March 10, 2015 at 5:10 PM | |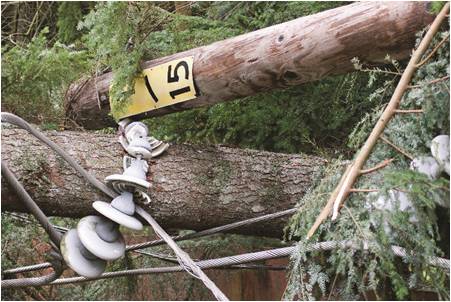 Power outages are increasing in number and severity. There are many causes.
• Ice storms, hurricanes, tornadoes
• An aging power grid stretched to capacity
• Wildlife in a nearby transformer
• Human error by utility employees
• A backhoe mistake on a construction project

Year Total number of outages People affected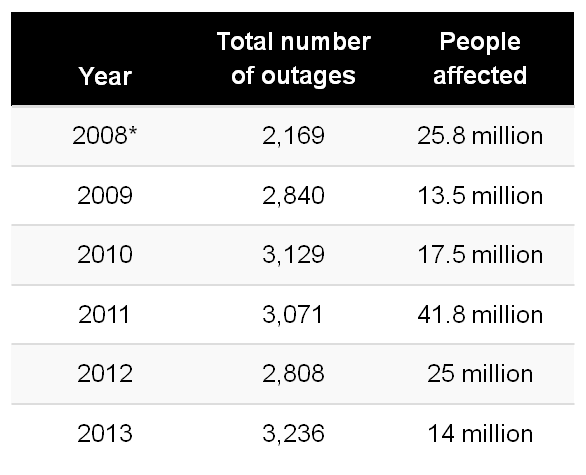 It doesn't take much to be left powerless. What's more, modern homes depend on electricity for just about everything. And if you run a business from home, or if you have lifesaving medical equipment, losing power is even more serious.
What you need is a reliable, permanent standby power system that can keep your lights, heat, AC, water heater, security system and other important appliances humming, so your family is safe and comfortable. And that's just what we provide.
Why should I install a permanent generator?
Some people try to get by with a portable generator. But unless you're an electrician, there are risks in that approach.
Will the portable have been exercised regularly to ensure it will run?
Will there be enough fresh gas to run it for an extended period?
How will you hook it up in the dark during a thunderstorm?
 Will it have enough capacity to power the appliances and lights you need?
A permanently installed generator avoids all these problems. That's why in the wake of Superstorm Sandy, a leading consumer publication recommended a permanent installed generator for maximum effectiveness. It works automatically; you don't have to do a thing. Contact NAE today for a free estiamte.
| | |
| --- | --- |
| Posted on March 6, 2015 at 1:20 PM | |
Power outages happen more often than one might think. In fact, according to the Edison Electric Institute, an average of 3.5 million Americans experience a power outage each week. That number is even higher when there's a major storm.
The east coast experienced some significant storms  the past several years, but each winter, without fail there are one or two snowstorms that knock out power for a day or two.
No matter how long or short a blackout lasts, being prepared will eliminate last-minute stress and chaos. And having a emergency preparedness plan in place will save you a lot of money and headaches down the road.
Emergency Preparedness: Power Outage Plans & Backup Power
September is National Preparedness Month so it's a perfect time to get a plan in place. The Center for Disease Control and Prevention provides a number of emergency preparedness tips should the power go out unexpectedly as well as ideas on what to think about when creating an emergency plan. Here's a useful checklist from the American Red Cross. It's also a good idea to check your state's website for tips too, as each state deals with its own unique weather patterns.
Part of your emergency preparedness plan should include backup power so your family can maintain the essential necessities to get through a power outage comfortably. Not all needs and budgets are the same so Briggs & Stratton offers both Portable Generators and Standby Generators with different options to choose from. If you're new to understanding generators, check out this Home Generator 101 video that explains basic terminology and the differences between the two. You'll be glad you did and your readiness preparation and planning will be that much easier.
Generator Safety
Always read and follow the manufacturer's operating manual and instructions before running a generator and pay close attention to safety considerations.
| | |
| --- | --- |
| Posted on March 6, 2015 at 1:10 PM | |
A question we've been getting about our home standby generators is "How do I know if I should invest in a standby generator and when?"
There is no simple answer to this question. It really depends on each individual situation. If your house is located in an area where there are frequent power outages, one question you must ask yourself is "Can I tolerate these electricity interruptions that impact my work, family, & home?"
Some factors to consider is are:
Whether or not you work from home and rely on power to generate income
If your home requires a sump-pump to remove water and avoid serious flood damage
What is my tolerance level for changes in the temperature in my home (too hot or too cold)
How much food do I have in the refrigerator or freezer that might spoil?
In each of these cases, electricity is something you can't afford to live without and a backup or standby generator might be the way to go.
Another case where a home standby generator might make sense is if you live in a hurricane-prone area. A generator may help safeguard family members—like children and the elderly—from the risks of sweltering heat.
Finally, people who own second homes often buy generators to protect against frozen pipes from bursting and flooding the house when they are not using the home. A backup generator is a much more cost-effective solution than having to hire someone to make costly home repairs.
Once you've figured out if a backup generator is right for you, understanding how generators work is a next good step. There may be a lot of terms you are unfamiliar with. Or maybe your unsure of how standby power works. That's why we provide an online dictionary, educational video and generator financing details, which may be the first place you want to visit as you begin the buying process.
/